Baptist Health's Aaron Miri focuses on future innovations in healthcare | So Good News
[ad_1]

The Florida-based health system's senior vice president and chief digital and information officer sees digital health innovation as a gateway to precision medicine.
The influx of direct-to-consumer technologies, from wearables to mHealth applications, has had a profound impact on healthcare innovation. But there's a fine line between what appeals to the customer and value to the provider.
For Aaron Miri, MBA, FCHIME, FHIMSS, CHCIO, senior vice president and chief digital and information officer at Florida Baptist Health, the challenge is to sift through all the promising technologies and services to find the diamonds in the rough.
"Anyone can buy something off the shelf, but are you using it in a way that fits the new normal?" he asks. "Does it help you engage with customers in the way they expect?"
Miri is part of a growing trend in the health care industry that focuses on how health systems can engage the customer in innovation and choose the right person to lead that responsibility. He joined the Jacksonville health system in 2021 after serving as chief technology officer at Children's Health in Dallas, chief information officer at Walnut Hill Medical Center, VP and CIO at Imprivata, and CIO at the University of Texas at Dell. School of Medicine and UT Health Austin.
He knows what he's looking for in an innovation, even if it's not always easily defined. There are many great ideas in both technology and strategy, but these ideas are often neglected. An innovative idea may look great, but lack substance.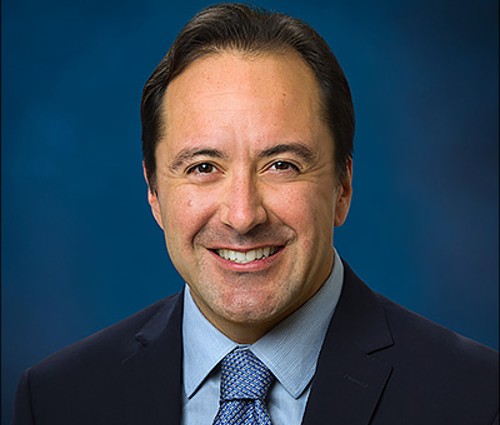 Aaron Miri, MBA, FCHIME, FHIMSS, CHCIO, is senior vice president and chief digital and information officer, Baptist Health. Photo courtesy of Baptist Health.
"People often focus on the sexuality of technology, for example," she says. "But that's like saying 'I want to cook dinner.' It's great, but I'm like, "What do you want to cook?" I ask. And you say: "I don't know".
According to Miri, in order for a new tool or strategy to work, it must show what the problem is and how it will solve that problem. A good example of this is Baptist Health's deployment of two robots, called Moxie, to its pediatric and adult care facilities this year. Robots work with patients while taking occasional selfies and deliver supplies to staff, particularly nurses.
Miri says the health system is facing a staffing crisis, with more than 1,000 vacancies, and nurses and other health workers are stressed. Moxie is designed to relieve stress by doing tasks that take up a lot of a nurse's time, but keep them from being a nurse.
Another innovative project saw Baptist Health partner with Gozio Health to provide visitors with clear directions to and around all properties within the healthcare system, enabling patients to quickly and easily find their way to appointments. According to Miri, Baptist Health saw about 15,000 downloads of the mHealth app in the first month, and they are now looking at other services, integrating the platform with their Epic eHealth platform.
Another program saw Baptist Health partner with Blue Zones to identify community-based social determinants of health and create community health and wellness programs, including food banks and affordable housing.
"That's where we're going as a health care system," Miri says. "We're thought leaders on this."
One of the keys to this strategy, he says, is data.
"Now the industry is responding to the fact that there is a sea of ​​data," he says, noting that there are more than 2 billion PACS images alone. "You can do a lot of things with this data that we haven't thought of yet."
For this reason, Miri sees data analytics and AI as a rapidly growing priority in healthcare. Health systems need to know how to collect and use this data, and how to use technology to facilitate collection and analysis while not burdening clinicians. In addition, they must focus on data transparency, so that they know where and to whom this data belongs, allowing for a seamless exchange between who has it and who needs it.
Beyond that, Miri says the healthcare industry is paying more attention to the power of automation and how robotics and robots can have a positive impact. Moxie is just one example of a rapidly growing industry segment.
"Health care is very complex and we have to be smart about what we do," he says.
That's why he's paying close attention to how he approaches healthcare startups and innovative new companies. Anyone can come up with a great solution that promises to improve healthcare, but he says he's looking for companies that "understand healthcare." They know how to do the dirty work that needs to be done to make those solutions work. This is not always the case with companies that "think outside the box".
Finally, Miri sees a lot going on in the development of a unique patient identifier.
"Personality is at the heart of digital transformation," he says, referring to the potential to personalize treatments and other resources. "And it's amazing how the identity is being left out."
Miri wants to see digital health technology help create what he calls the "golden record," a complete and accurate health record that uses blockchain technology to track the patient and match patients to resources and patients to resources. It also goes a long way toward eliminating databases and incomplete or inaccurate patient records that hinder clinical care.
This Miri is forward-looking. He doesn't believe in looking back and says the competitiveness of today's healthcare landscape is good for the industry because it forces innovators to stay relevant.
"If you're going to be sick, you're going to the best place," he says. "And this is us."
Erik Wicklund is the innovation and technology editor for HealthLeaders.
[ad_2]

Source link