MARTA is donating railcars from the Authority's original fleet to the Southeastern Railway Museum in Duluth | So Good News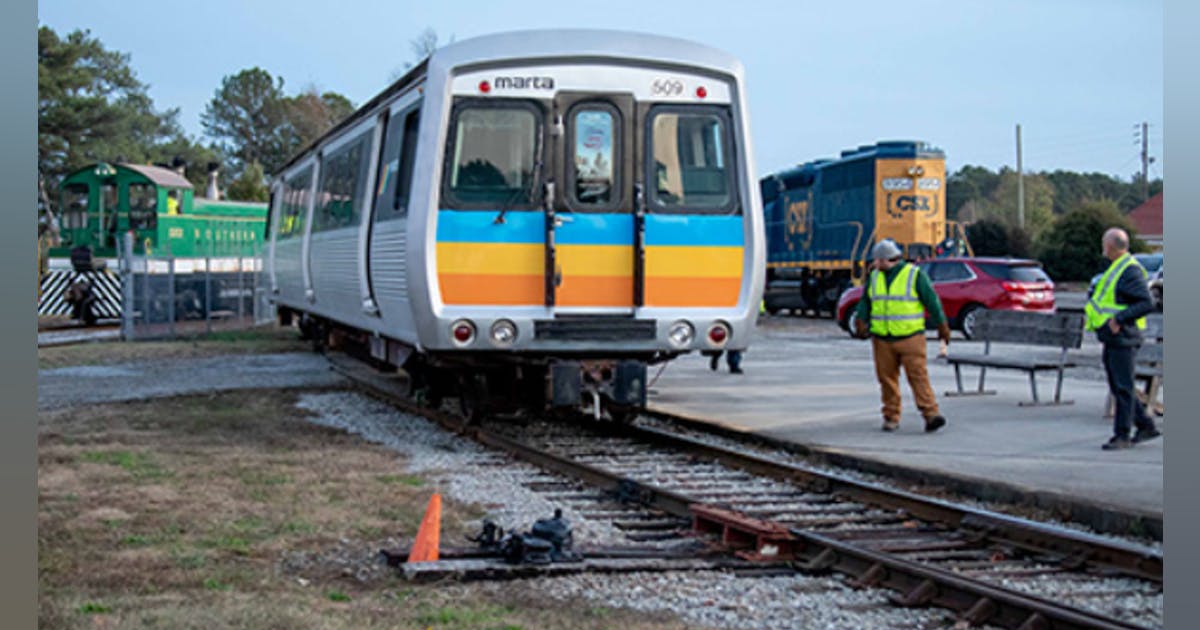 [ad_1]

The Metropolitan Atlanta Rapid Transit Authority (MARTA) has donated a rail car from the authority's original fleet to the Southeastern Railway Museum in Duluth. The donation of the 42-year-old railcar is one of several activities planned as MARTA transitions to its new railcar fleet.
Railcar #509 was built by Société Franco-Belge and entered service in 1981 along with 20 other identical cars, then retired at the end of its life 30 years later. It has a 75-foot-long aluminum body, weighs 81,000 pounds, and seats 46 seated passengers, with cabs at both ends. The rail car was transported from MARTA's Avondale Railyard to the museum on November 16.
Construction of MARTA's heavy rail system began in 1975, with the first railcars rolling out in 1979. The existing heavy rail fleet totals 340 cars and was obtained during three acquisitions in 1979-1981, 1984-1988, and 2000-2005. MARTA will replace its entire heavy rail fleet over the next few years with 224 railcars (56 four-car trainsets) purchased from Stadler in 2019 for $646 million, the largest single acquisition for both organizations and a milestone in MARTA's capital improvement program aimed at more efficient performance and improved customer experience.
"With our future railcar fleet now in final design, it is time to start clearing track space to make room for our new trains. We are starting to retire our oldest railcars and we want to ensure that one of them is available for future generations. At the Southeastern Railway Museum, it will join our historic fleet of MARTA buses as we begin a complete railcar fleet replacement," said MARTA General Manager and CEO Collie Greenwood.
"I came here in '98 and this is what I trained for as a mechanic, so it's got a bit of nostalgia. I won't shed a tear, but this is the end of an era. We're getting ready to start a new chapter with the new cars so everyone can see the transition from old to new," said Pierre Merrick, MARTA journeyman car mechanic.
The interior of the new railway carriages has an open gangway, so that riders can move freely between the cars. Seating options include forward and inward facing and state-of-the-art technology such as charging stations and digital system maps and service information. The exterior features an illuminated "smile" on the front of the train denoting the color of the railway line: Red; gold; green or blue, so riders will know from a distance that their train is approaching.
The Southeastern Railway Museum houses close to 100 rolling stock such as historic Pullman cars, classic steam locomotives, historic MARTA buses and now an original MARTA railcar, providing entertainment and education to visitors.
"As Georgia's official transportation history museum, we are honored to be able to acquire such a significant piece of the region's transportation history. MARTA is a significant economic engine for our region, and we are excited to continue to expand the collection related to its history and development," said Randy Pirkle, Executive Director Emeritus, Southeastern Railway Museum.
[ad_2]

Source link