Pesticide Innovation Wins Top Prize in Collegiate Inventor Competition | MIT News | So Good News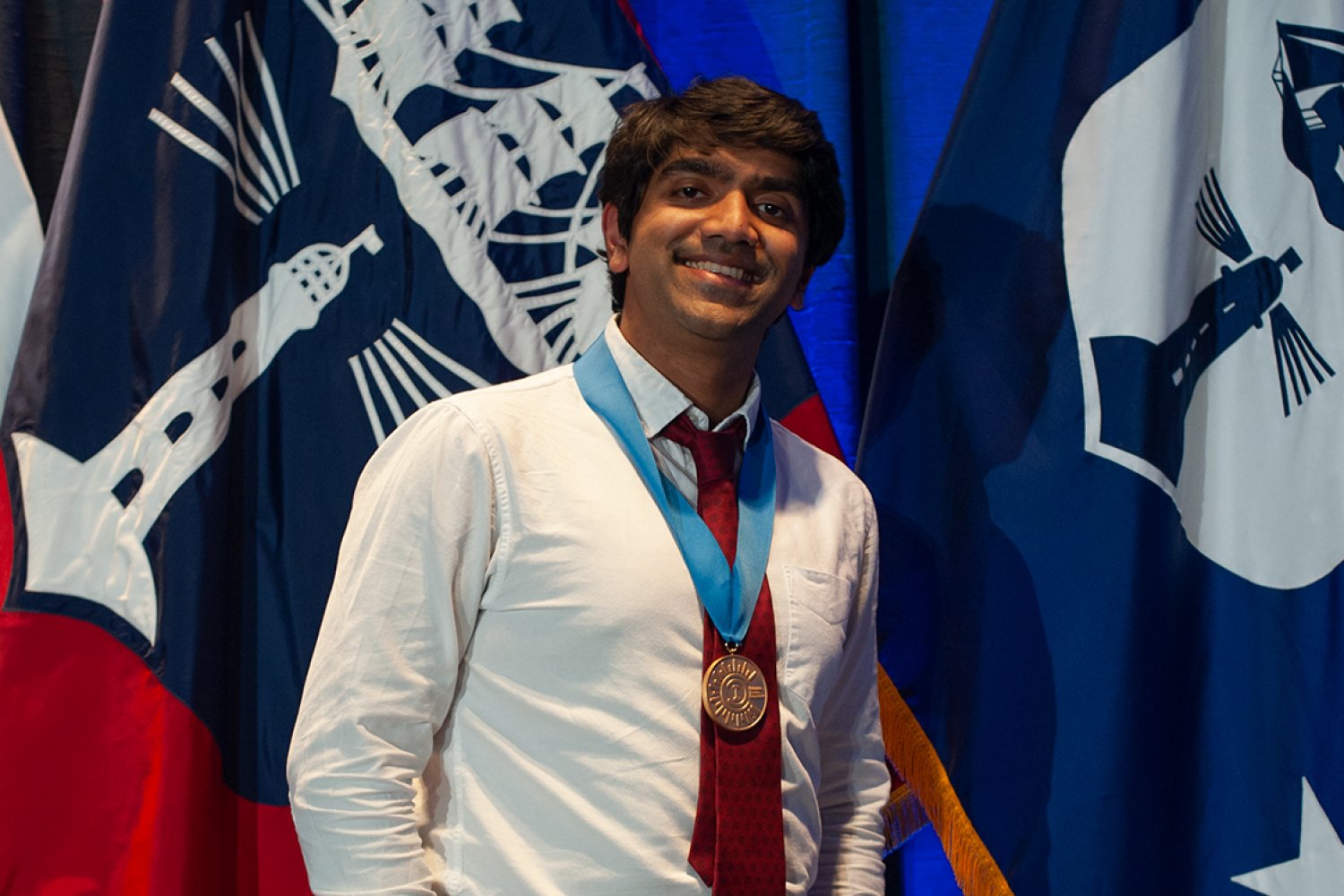 [ad_1]

On October 12, MIT mechanical engineering graduate Vishnu Jayaprakash SM '19, PhD '22 was named first place winner in the alumni category of the Collegiate Inventors Competition. Hosted by the National Inventors Hall of Fame, the annual competition celebrates college and university student inventors. Jayaprakash won for his pesticide innovation AgZen-Cloak, which he developed while a student in the lab of mechanical engineering professor Kripa Varanasi.
Currently, only 2 percent of pesticide sprays are retained on crops. Many crops are naturally impermeable to water, which causes pesticide-laden water to run off them. Farmers are forced to over-spray to ensure proper spraying of their crops. This not only wastes expensive pesticides but also harms the environment.
Runoff from pesticide processing contaminates soil and nearby streams. Droplets become airborne and can cause illness and death in nearby populations. Each year, pesticide pollution causes 20,000 to 200,000 deaths and up to 385 million acute illnesses such as cancer, birth defects, and neurological conditions.
With his AgZen-Cloak invention, Jayaprakash found a way to keep pesticide-containing water droplets from bouncing off crops by "cloaking" the droplets with a small amount of vegetable oil. As a result, farmers can use only one-fifth of the spray, reducing air pollution and toxic runoff, reducing water wastage and costs to farmers. It also improves pesticide retention, which can lead to higher crop yields.
"By coating each droplet with a minute plant-based oil, we promote water retention on even the most impermeable plant surfaces," says Jayaprakash. "AgZen-Cloak offers a versatile, low-cost and environmentally sustainable way to prevent pesticide overuse and waste."
Jayaprakash has farming in his DNA. His family runs a 10-acre rice and mango farm near Chennai, India. After joining the Varanasi research group as a graduate student, Jayaprakash immediately focused on Varanasi's work on pesticides in agriculture.
"Growing up, I wore a backpack sprayer and sprayed crops on the family farm. So I always wanted to work on research that would make life easier for farmers," says Jayaprakash, who serves as the CEO of startup AgZen.
Helping droplets stick
Varanasi and his MIT lab work on what are called interfacial phenomena — or what happens when different phases come into contact and interact with each other. Understanding how a liquid reacts with a solid or how a liquid reacts with a particular gas has endless applications, which explains the diversity of Varanasi's research over the years. He and his team have developed solutions for everything from consumer product packaging to power plant emissions.
In 2009, Varanasi presented to the US Department of Agriculture (USDA). There, he learned from the USDA how big a problem pesticide sprays are for farmers around the world.
He enlisted the help of then-graduate student Maher Damak SM '15, PhD '18 to apply his work on interfacial phenomena to pesticide sprays. Over the next few years, the Varanasi research team developed a technology that uses electrically charged polymers to prevent droplets from bouncing off hydrophobic surfaces. When droplets containing mixtures of positive and negative charges meet, their surface chemistry allows them to adhere to the plant surface.
Using polyelectrolytes, researchers were able to reduce the amount of spray needed to cover crops in the laboratory tenfold. This prompted the Varanasi research team to conduct three-year field trials with various commercial growers around the world, where they were able to demonstrate significant savings for farmers.
"We have received great feedback from farmers about our technology. We are very excited to change the paradigm for agriculture. Not only is it good for the environment, we've heard from farmers that they love it. If we can get the money back to the farms, it will help the society as a whole," added Varanasi.
In response to positive feedback, Varanasi and Jayaprakash founded the startup AgZen in 2020.
While field testing the polyelectrolyte technology, Varanasi and Jayaprakash came up with the idea of ​​exploring the use of an entirely plant-based material to help farmers achieve the same savings.
Hiding drops and engineering nozzles
By coating a small amount of vegetable oil around a water droplet, Jayaprakash found that the droplets would stick to the surface of the plant, which normally repels the water. After much research in the laboratory, he found that the oil needed to be only 0.1 percent of the total droplet volume to adhere to the crops and provide a total, even coverage.
While his masking solution worked in the lab, Jayaprakash knew that farmers needed to find an easy and cheap way to coat pesticide spray droplets with oil to have a significant real-world impact.
Jayaprakash focused on spray nozzles. He developed a proprietary nozzle that coats each droplet with a small amount of oil as it forms. The nozzles can be easily connected to any hose or agricultural equipment.
"We've come up with a clever way to seal these droplets by using a very small amount of oil on the outside of each droplet. Because of this, we will achieve a dramatic improvement in productivity, which can be a game-changer for farmers," says Jayaprakash.
In addition to improving pesticide retention on crops, AgZen-Cloak solves a second problem. Historically, farmers sprayed the pesticide in small, mist-like droplets because larger droplets tend to break up and bounce off the crop. These tiny droplets are often carried by the wind, increasing pesticide contamination in nearby areas.
When AgZen-Cloak is used, pesticide-laden droplets can be larger and still stick to crops. These large droplets are not carried by the wind, which reduces the risk of contamination and reduces the impact on the health of local residents.
"We are solving two problems with one solution. With the occlusion technology, we can spray much larger droplets that are less susceptible to wind movement and can stick to the plant," adds Jayaprakash.
Bringing AgZen-Cloaks to farmers around the world
This spring, Varanasi invited Jayaprakash to submit AgZen-Cloak to the Collegiate Inventor Competition. Out of hundreds of applications, Jayaprakash was one of 25 student inventors selected as a finalist.
On October 12, Jayaprakash presented his technology to a panel of judges consisting of National Inventor Hall of Fame inductees and US Patent and Trademark Office staff. Meeting such a group of famous inventors and officials left an impression on Jayaprakash.
"These are the people who invented things that changed the world. So it was really valuable to get their feedback on what we were doing," he says. Jayaprakash received a prize of US$10,000 for being the first place graduate winner.
As AgZen's full-time CEO, Jayaprakash focuses on field trials and commercialization. He and the AgZen team have already conducted field trials around the world at a Prosecco vineyard outside of Venice, a ranch in California, and Ward Berry Farm in Sharon, Massachusetts. The Vegetable Breeding Program at the University of Massachusetts at Amherst, led by their program director, Susan Schoefele, recently completed a field trial confirming AgZen's field performance.
Two days after winning the Collegiate Inventor Competition, Jayaprakash was named first prize winner in the MIT Abdul Latif Jamel Water and Food Systems Laboratory's World Food Day student video competition. Hours later, he was flying across the country to attend an agricultural technology conference in California, ready to meet with farmers and discuss plans to roll out AgZen innovations to farms everywhere.
[ad_2]

Source link