The area on the Seguin Manufacturing Tour made an impact on the students. | So Good News
[ad_1]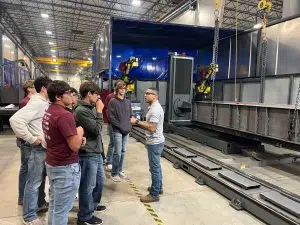 (Seguin) – A recent tour of the manufacturing facilities in Seguin was more than just a tour. It's a real insight into what one's future could be. This is especially the case with Navarro Senior Case Monroe.
Seguin, where Monroe toured nine different manufacturing plants last Wednesday. Navarro and 60 Marion High School students participated. The Made in Seguin Manufacturing Industry Bus Tour is part of the celebration of National Manufacturing Day. This is the fourth time the Seguin Economic Development Corporation has hosted this event for local seniors and seniors.
Looking back at these plants, Monroe says he was most surprised.
"It was really interesting to see all the different equipment. Indeed, My biggest takeaway is that every machine needs a person to help operate that machine — every piece of equipment has an operator," says Monroe.
List of stops include Ameriex Pipe; Alamo Industries; Minigrip; CMC Steel Texas; Tejin Automobile; gel; United Alloy, Vitesco Technologies and Caterpillar.
Monroe, who hopes to major in business at Texas Tech, said her future is expanding with new possibilities.
"The next thing I noticed was that there's everything on the factory side, but you have to consider front desk and sales and engineering, so it made me realize that there are a lot of job opportunities. You can have it in Seguin," Monroe said.
While on the production floor at United Alloy; Monroe said seeing Seguin's offer was probably the best part for him, especially as he neared graduation. He said these trips showed him a side of Seguin he never knew.
"I was definitely shocked. I drive by this place all the time. I didn't really know what it was and now I'm here and I'm like, 'Okay.' I didn't even know it was here. It's pretty interesting," Monroe said.
SEDC officials said Monroe's understanding of the Made in Seguin Manufacturing Tours was exactly what they wanted. These advanced manufacturing jobs offer local students a variety of career opportunities right in their own backyard, they say.
"Students should be thinking about career paths early and often. This year we chose to focus on our 11th and 12th grade career and technical education (CTE) students. "Educators and employers can work together to build pathways that meet the economic needs of employers and prepare students for good jobs," said Josh Schneuker, director of economic development for the City of Seguin.
Excited about bridging students with these many possibilities is Navarro High School business and marketing teacher Sandra Hensley.
"Some of these students will go straight into the workforce after graduation, some will go to college, but I think the opportunities in these manufacturing facilities are there for all of them," Hensley said.
The CTE teacher said the trip was about dispelling myths about the manufacturing industry.
"I think it's an opportunity for all of them – even if it's human resources, if it's safety, if it's welding, it's engineering. There are opportunities for all of them," Hensley said.
Employers seem to be over these high school tours. Bill Vanderwaal, director of CMC Steel Texas Mill Operations, likes those benefits.
"At CMC Steel Texas, we've been doing business in South Texas for 75 years. The two most intertwined aspects are safety and automation. Modern manufacturing is very safe, high-tech and profitable. We appreciate opportunities like Manufacturing Day to show the future workforce and their parents how far manufacturing has come and meet the people who make it happen," said Vanderwaal.
The Seguin region has nearly 7,000 manufacturing jobs; More than three times the national average.
[ad_2]

Source link